Laatste nieuws  (Klikken aub) :
Wij kunnen lopen maar niet stilstaan.
Onze benen beginnen te trillen bij stilstaan, daardoor krijgen wij een onzeker gevoel en hebben angst om te vallen. OT beïnvloedt daardoor het dagelijkse leven, omdat het stilstaan ons belemmert. Gaan we lopen of zitten dan stoppen de trillingen bijna direct weer. Herkent u dit?  Dan zou het kunnen dat er sprake is van de neurologische aandoening: Orthostatische Tremor. Als u deze klachten heeft, adviseren wij u om met uw huisarts contact op te nemen.
Visuele beschrijving van OT (1)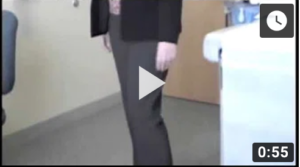 Visuele beschrijving van OT (2)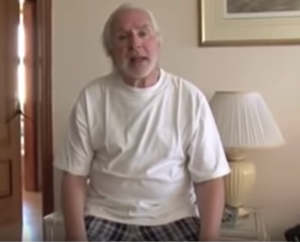 Het doel van onze website is om meer informatie te verstrekken en meer bekendheid te creëren over deze zeldzame aandoening, 'Orthostatische Tremor' ook wel OT genoemd.
Als er een stethoscoop tegen de spieren wordt gehouden tijdens stilstand is een "helikopter geluid" hoorbaar.
In Nederland zijn ongeveer 80-90 personen geregistreerd met deze zeldzame aandoening. Maar het vermoeden bestaat dat er nog vele tientallen  mensen zijn die nog niet gediagnosticeerd zijn, of… wellicht is de verkeerde diagnose gesteld bv. Restless legs, ouderdom, nervositeit, stress, etc….
Door de onbekendheid van onze aandoening worden onze klachten meestal niet herkend door de artsen en andere medische hulpverleners. Hierdoor is de weg naar de diagnose soms erg lang.
Tot op heden is er geen OT-onderzoek geweest. Dat betekent, dat er geen adequate medicatie is en dat de medici geen verbetering of genezing aan kunnen bieden.
Leden van onze patiëntengroep steunen en bemoedigen elkaar, delen lief en leed op de besloten Facebookpagina.
Door de jaren heen is er veel informatie over OT verzameld. Het is bedoeld om mensen met OT  te blijven informeren, maar het is ook bedoeld voor iedereen die op zoek is naar informatie over deze zeldzame aandoening en de gevolgen ervan.
Het is medische informatie, maar ook andere zeer diverse informatie, het heeft allemaal te maken met onze zeldzame aandoening OT.
Wij hopen dat wij kunnen helpen met deze informatie om meer inzicht te krijgen over deze lastige en onbekende aandoening  'Orthostatische Tremor'.
Onze OT-patiëntengroep wordt ondersteund door

dr. Fleur van Rootselaar

, werkzaam in het AMC als Neuroloog/klinisch fysioloog.
Ideeën of suggesties van buitenaf zijn altijd welkom, schrijf een berichtje of mail ons.
Ook de Nederlandse hersenstichting's site  heeft een blog afdeling met persoonlijke verhalen  van OT patiënten.

Bent u  geïnteresseerd in onze aandoening,  dan kunt  u zich aanmelden op  onze open Facebookpagina. Trillen bij stilstaan-OT- informatiepagina 
Op onze  besloten Facebookpagina  kunnen  OT-patiënten en familie  zich aanmelden om lid te worden van onze patiëntengroep. Orthostatische Tremor
Tevens bestaat de mogelijkheid om u  aan te melden als volger van onze  patiëntengroep als u beroepshalve geïnteresseerd bent in onze aandoening.
Geïnteresseerden  die geen Facebook-fan zijn kunnen zich ook aanmelden  en worden per mail op de hoogte gehouden van belangrijke ontwikkelingen.
Misschien zou een site mytomorrows.com  "een wereldwijde kennisbank" ons op den duur een beetje verder kunnen helpen. Deze site heeft een missie:
10 jaar of meer. Zolang kán het duren voordat een geneesmiddel wordt goedgekeurd. Vaak hebben artsen en hun patiënten geen toegang tot het middel in de periode voor goedkeuring, terwijl het misschien al wel hoopvolle resultaten laat zien.Wij willen voorkomen dat patiënten behandelopties mislopen door gebrek aan informatie en begrip of administratieve drempels. Daarom zetten we ons in voor een betere toegang tot geneesmiddelen die in ontwikkeling zijn.
Zoektermen
Wij proberen om deze site zo snel mogelijk te laten vinden door Google (en andere zoekmachines) door zoveel mogelijk zoektermen te definiëren zoals:
trillende benen, trillende benen bij stilstaan, trillende benen syndroom,  tremor bij stilstand, tremor, bibber benen, tremor bij stilstaan, beven bij stilstaan, beven bij stilstand, wankelen bij stilstaan, wankele benen syndroom, wiebel benen,  nerveus bij stilstand, nerveus bij stilstaan, zenuwachtig bij stilstaan,  deinen bij stilstaan,  sta-probleem,  stilstaan-problemen,  hersenaandoening,  Deep Brain Stimulation,  DBS operatie,  spierzwakte, gummi benen,  onzekerheid bij staan,  restless legs, Merkel, Merkel onzeker, Merkel drinking water.
Eventuele zoekterm suggesties worden op prijs gesteld, u kunt mailen naar ons mailadres  of  laat een berichtje achter